RIO DE JANEIRO, BRAZIL – About 19,000 migrants, "mostly Haitians", are stranded at a port in northern Colombia waiting to board boats that will take them to the border with Panama, the Ombudsman's Office (Ombudsman) reported on Wednesday.
"We have been able to confirm that there are about 19,000 migrants" seeking to cross to Central America, said Carlos Camargo, the head of the entity that oversees human rights in Colombia.
The Ombudsman's Office said in a statement that the "majority" are Haitians.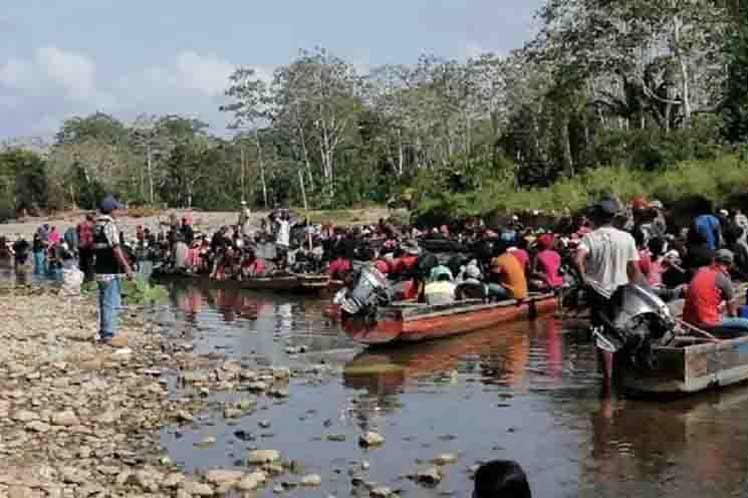 The migrants, Camargo added, are waiting for a place on boats from the small port of Necoclí (northwest) to Acandí, a village on the border with Panama.
An agreement between the Colombian and Panamanian governments restricts the transit of migrants to a maximum of 650 people per day. More than 50,000 have crossed that border in 2021.
Travelers must cross the Gulf of Urabá, a maritime stretch of about 60 kilometers. They must also navigate the threat of the Clan del Golfo, the largest armed drug trafficking organization wielding authority in the region.
BOTTLENECK
The area is one of the main transit points for Haitians, Africans, and Asians migrating to the United States. Most come from Chile and Brazil, seeking to cross into Panama through the dangerous jungle of the Darien Gap, one of the most challenging stretches of the journey to North America.
According to Camargo, the companies that offer transportation in boats or small vessels sell about 250 tickets a day each. Still, in the "last few days, the number of migrants in transit arriving in Necoclí has been increasing, and they are stranded there due to the impossibility of getting" a ticket.
Some 11,500 people have bought tickets to make the trip before October 13. "There is an undetermined number of people who have not been able to acquire their tickets" and resort to crossing the sea in "illegal boats," the Ombudsman added.
In January and July of this year, authorities had already reported the overflowing of the port of Necoclí, a town of some 45,000 inhabitants. Travelers often camp on the beach or rent private homes during their stay.
Tens of thousands of migrants, especially Haitians, have arrived at the U.S.-Mexico border in recent months. Many of them made the transit through Colombia.
The massive flow of Haitians who have crowded under a bridge in the border city of Del Rio, Texas, has become a problem for U.S. President Biden's administration. The U.S. government has resorted to deporting them by plane back to their country.